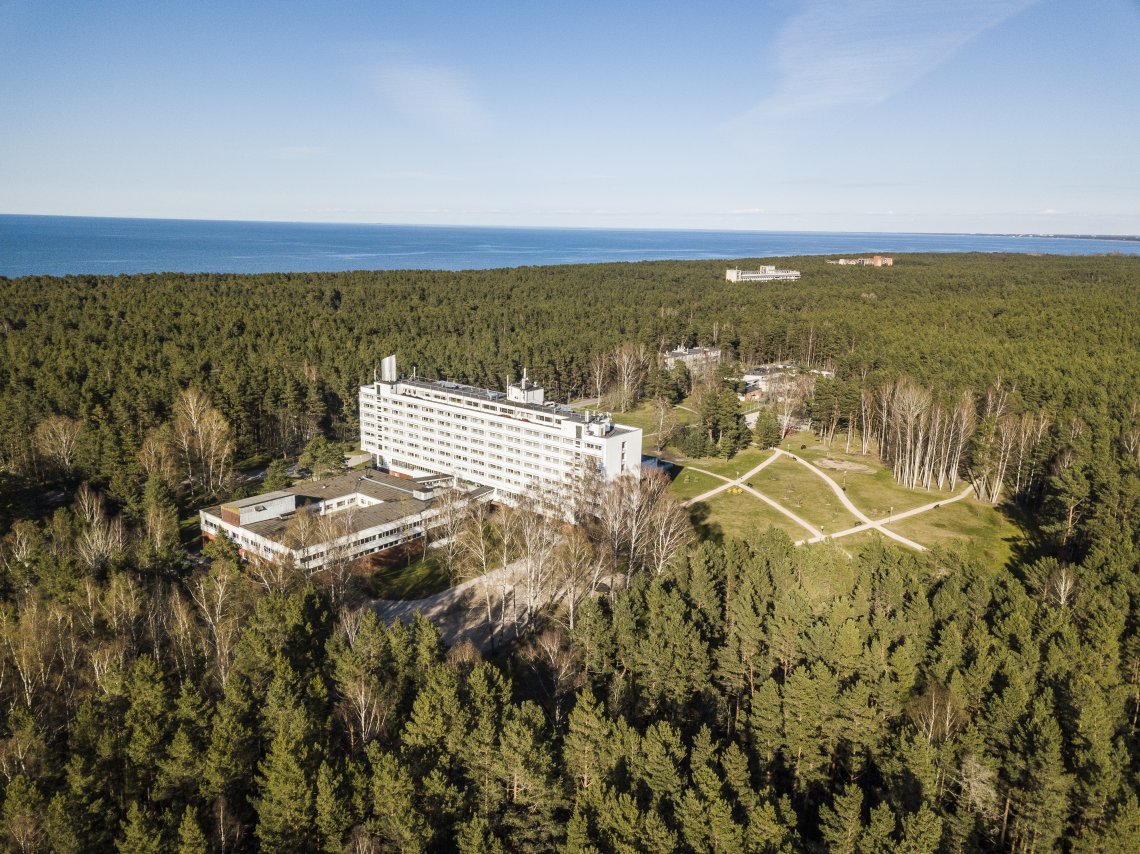 Jaunķemeri is a place where healing forces of nature meet state-of-the-art rehabilitation technologies.
Jaunķemeri Rehabilitation Centre is a multi-profile rehabilitation facility combining advanced rehabilitation technologies and historical health resort traditions, such as mud baths and mineral water treatments. 


History
Jaunķemeri Sanatorium opened its doors on 4 August 1967.

In 1990s, it was privatised to create the Jaunķemeri Resort Rehabilitation Centre.

Its creator, founder and long-standing leader is Dr. Mihails Malkiels.
Location
We are situated in a unique location in a pine forest in Ķemeri National Park between a lake and the sea.

35 km from Rīga

300 m from Jaunķemeri beach

The Centre is surrounded by a beautiful park spanning over 3 hectares.
Possibilities
Jaunķemeri Rehabilitation Centre is the largest private inpatient medical facility in Latvia.

We are open every day, including weekends and holidays, all year round.

There are 385 beds in the Centre.

Every year, we provide rehabilitation services to over 12 thousand patients.

We also offer early medical rehabilitation straight after patients' discharge from the hospital.

We provide rehabilitation care to patients with musculoskeletal disorders, central and peripheral nervous system disorders, cardiovascular diseases, rheumatic conditions, oncologic conditions, complications of diabetes and other health conditions.

We have an outpatient clinic with state-of-the-art equipment and technologies where patients can also receive services co-financed by the state.

We are all for healthy lifestyle and all sports lovers are welcome to visit out Fitness Centre.
Our team
We have more than 40 doctors, over 40 functional specialists, nurses, aides and attendants caring for our patients and multiple technical staff ensuring daily work of the Centre.

Overall, the Centre employs more than 300 people.

We are committed to long-term and enduring values and we are proud that many of our employees have been with us for 10, 20 and more years.

Our employee who we can call a true Jaunķemeri veteran has been working here for 46 years already.

Jaunķemeri Rehabilitation Centre is one of the largest employers in Jūrmala.
Natural resources
We are proud to continue the traditional natural treatments started at the historical Ķemeri resort using mud and mineral water for rehabilitation care.

In 1981, a peat bog was started in the Slokas Swamp and we still source our mud from it today.

Every month, we use about 40 tons of mud for various mud treatments.

Mud is considered a fossil mineral resource.

Mud is a renewable resource. That is why, after treatment, we collect all the used mud and transfer it to the mud regeneration field so that in about three years it can be used again.

We are the only facility in the Baltic states doing the environmentally friendly mud regeneration.

There are three mineral water wells on our site, i.e. sulphurous, bromine and sodium chloride mineral water.

Bromine water comes from a 1 km deep well, which is ten times deeper than any well for usual household needs.

We are the only facility in Latvia to use all 3 types of mineral water in one place.
Treatments
In a year, the Centre provides about

- 24,000 thousand classic massages

- 12,550 Nordic walking and terrain therapy sessions

- 27,280 mud treatments

- 18,000 bromine mineral water baths

- 12,320 underwater massages

- 50,644 physical therapy treatments (including lymph drainage, electrotherapy, etc.)
On site
One of the most exciting treatments is hippotherapy or therapeutic riding.

Our stables are a home for four hippotherapy horses: Pērse, Dirola, Lučš and AnnaBella. After exercise sessions, all four are very happy to munch on carrots and apples brought by their patients. They do appreciate the thought!

We provide support to Latvian Paralympians who use our rehabilitation services, and the only sitting volleyball and wheelchair basketball court in Latvia is situated on our site.
We are always happy to take care of your health! Looking forward to seeing you at Jaunķemeri!
SIA "SANARE - KRC JAUNĶEMERI" organizational chart
Members'meeting

Chairman and Members of the Board - the Board of Directors

Director-General

Administrative Department

Records Management Department (67733519)
Personnel Department (67733267)
Legal Unit 

Department of Medical Rehabilitation and Outpatient Services (28382930)

Head of department
Medical Rehabilitation and Outpatient Services Section

Medical Rehabilitation Department
Outpatient Services Section (67733548)

Healthy Lifestyle Department (28369340)

Functional Specialist Service 
Healthy Lifestyle Services Department (28369340)
Fitness Services Department (26646022)

Medium Medical Staff Service

Catering Department (67733519)
Maintenance Department (66117719)

Director of Maintenance Department
Junior Medical Staff
Cleaning Service
Territory Improvement Service
Material Provision Department

Technical Support Department (67733519)

Technical director
Repair Service
Heat Service
Transport and Security Service
Plumbing and Mud Preparation Service

Financial Department (67733519)

Financial Director
Accounting 

Marketing and Public Relation Department (66117706)
Booking Department (67734403; 26386222; 67733522)

Head of Department
Reservation Service
Medical Reception Service

Medical Reception Department
Admission Section