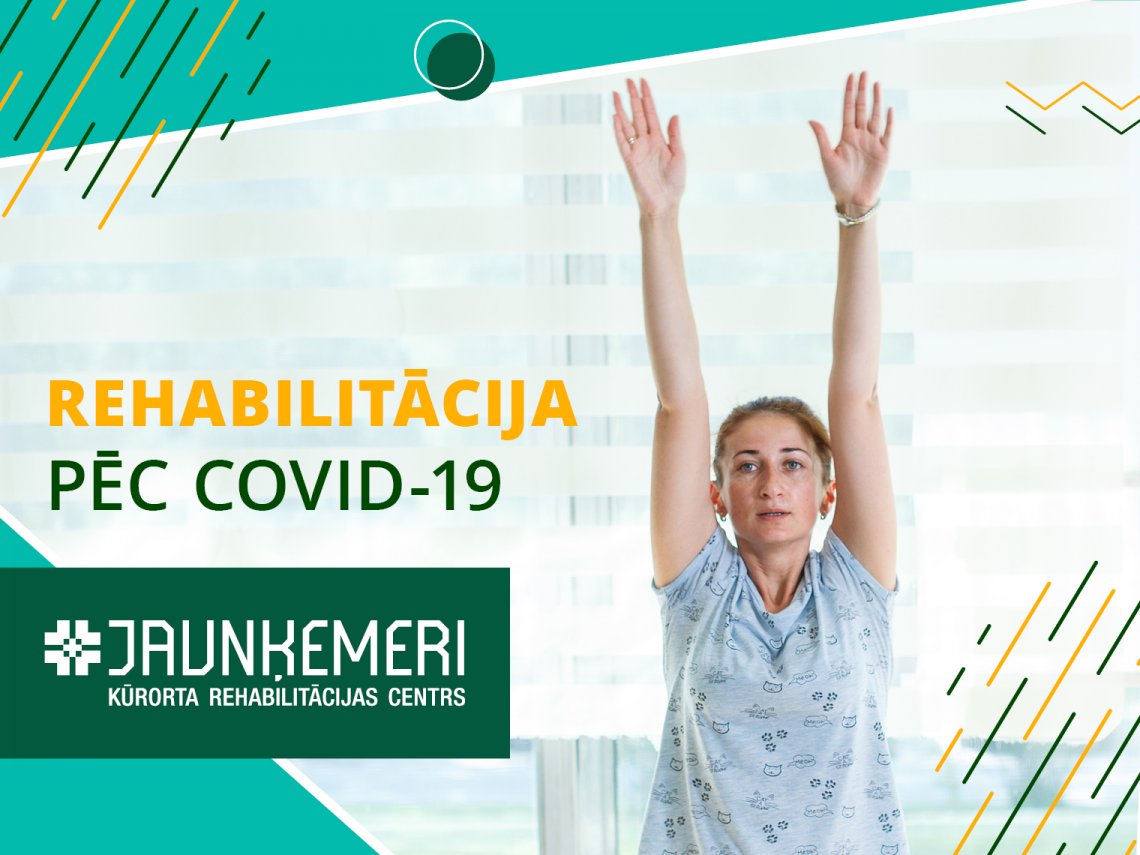 Most people who have had Covid-19 feel its lingering effects for months after seemingly winning their battle with the virus. They experience so-called post-viral effects that lower their quality of life. To be free of these effects as soon as possible and help your lungs recover, it is advisable to be as active as possible while keeping an eye on how you are feeling and progressing.
Jaunķemeri offers Covid-19 Rehabilitation Programme designed to reduce complications, return to daily activities, improve health-related quality of life and increase effort tolerance.
Initially, the patient will see a physical and rehabilitation medicine specialist or internal medicine specialist who will perform a functional assessment of the patient and draw up a personal rehabilitation plan based on pulmonary and cardiac rehabilitation indications.
* Personal rehabilitation plan is implemented by a multidisciplinary rehabilitation team using medical rehabilitation and physical medicine technologies.
THE PROGRAMME IS INTENDED FOR PATIENTS:
REHABILITATION IS NECESSARY, IF YOU EXPERIENCE:
Fatigue

Weakness

Headaches

Difficulty breathing

Aggravation of concomitant conditions

Depressed psychological state

Sleep disorders

Anxiety

Other health problems
GOAL:
To reduce post-viral complications

To return to daily activities

To improve patient's health-related quality of life

To increase effort tolerance
THE PROGRAMME IS IMPLEMENTED BY A MULTIDISCIPLINARY REHABILITATION TEAM:
Internal medicine specialist

Physiotherapist

Occupational Therapist

Psychologist

Speech Therapist

Nutritionist

Medical Qigong Instructor

Hippotherapist

Hydrotherapists and Physical Therapists

Nurse
Every rehabilitation plan is personalised depending on patient's functional status.
The programme includes
- Functional assessment of the patient
- Personal physiotherapy (postural drainage, therapeutic exercises to improve/restore performance of daily activities and ability to work, breathing exercises to improve breathing function and bronchial drainage, etc.)
Group session with nutritionist
Speech therapist consultation and sessions
Medical qigong
Personalised rehabilitation plans are created by doctors based on each patient's state of health and contraindications. We are all for helping people get better and all against letting them get worse! That is why we ask you to trust our experienced medical team who know which treatment to use in each particular case.
Every patient's case is special and that is why treatments in the medical rehabilitation programmes may vary for each patient.
The minimum duration of medical rehabilitation is 7 days.
When you begin your medical rehabilitation course, you must have an identity document with you (passport or ID card).

We offer additional paid services, such as laboratory tests, diagnostic examinations, consultations with specialists and additional treatments depending on indications.

For salt therapy, you need to book a salt room visit (3,80 euro) from our Kiosk or Fito Bar.
Before coming to the Rehabilitation Centre, please carefully read:
MEDICAL REHABILITATION OR HEALTH IMPROVEMENT SERVICE PROVISION AGREEMENT
INTERNAL REGULATIONS
REFUNDS FOR UNUSED SERVICES
For additional information or to book a service, click here
You should have with you:
Identity document (passport or ID card)

Face mask

Recent examination reports, tests results, hospital discharge summary and other documents that you can provide to our doctors for a more successful rehabilitation process

Referral from your GP or another specialist

If you want to receive medical rehabilitation services for an occupational disease and plan to get reimbursement from the State Social Insurance Agency, you must have a decision from a medical commission on the diagnosis of the occupational disease

Swimwear

Pool slippers

Swim cap (or a shower cap)

Comfortable clothes and footwear for Nordic walking

Personal hygiene products

Hairdryer (if necessary)
If a patient needs a functional room and care, please make sure to have:
Identity document (passport or ID card)

Face mask

Recent examination reports, tests results, hospital discharge summary and other documents that you can provide to our doctors for a more successful rehabilitation process

Referral from a GP or other specialist is preferable

Comfortable clothes (gym wear with pants) for exercises with a specialist

Comfortable, closed footwear providing good foot support and comfort during exercises

All medicines that have been prescribed to you and that you should be taking

Necessary personal hygiene products, including, where necessary, diapers, wet wipes and care products for the patient